Do you have any troubles with recruiting foreigners?
We just want workers anyway!

We would like to recruit foreign workers, but the system is too complicated and we got cold feet.

The "various support and procedures" required to accept foreign workers are difficult.

We are worried about whether we can fully understand foreign human resources and hire reliable ones.
Cast flow solves your worries!
01

We listen carefully to your worries about human resources.

Our dedicated foreign employment career consultants will listen to the company's recruitment issues and requests.

02

We introduce right global human resources in the right place.

We will select and introduce suitable human resources for each company from CAST FLOW's population of talented foreign human resources.

03

We support companies quickly and carefully to accept human resources.

We will support companies based on our experienced know-how regarding the environment and applications that companies must prepare before accepting foreign human resources.
04

Even after the company accepts the human resources, we will provide kind and detailed support.

Even after a company accepts foreign human resouces, we support the company in a sincere and detailed manner with regard to the improvement of the performance of the human resources and the anxiety factor for the human resources possessed by the company.

05

We have a back office that is useful for finance and subsidies.

By accepting foreign human resources, our resident management consultants can help with business problems and help companies.
CAST FLOW is able to respond to customer requests and plans.
plan A

Introduction of Specified Skilled Foreigners
(Interview - Training Support Services- Support Services)

plan B

Introduction of Foreign Technical Intern Trainee
(Interview - Training Support Services - Management Services)

plan C

Charged employment placement services for foreigners
#01 Specific Skills Summary
14 acceptable fields

Care Worker, Building Cleaning / Jurisdiction: Ministry of Labor, Machine parts and Tooling industry, Industrial machinery manufacturing, Electrical and electronic information related industry / Jurisdiction: Ministry of Economy, Trade and Industry, Construction, Shipbuilding / Marine industry, Automobile maintenance, Aviation, Accommodation industry / Jurisdiction: Ministry of Land, Infrastructure, Transport and Tourism, Agriculture, Fisheries, Food and Beverage Products Manufacture, Food Service Industry / Jurisdiction: Ministry of Agriculture, Forestry and Fisheries

Acceptance period

Specified Skilled Worker (i) - Renewed annually, every 6 months or every 4 months, for a maximum stay up to 5 years in total.
Specified Skilled Worker (ⅱ) - Renewed every 3 years, annually, or every 6 months, no limitation to the length of stay.
Condition of accepting company

Employment contracts with foreigners are appropriate.(Example: Wage is equal to or more than Japanese)
The accepting company itself is appropriate. (Example: There is no violation of immigration / labor law within 5 years)
There is a system to support foreigners. (Example: support in a language that foreigners can understand)
A plan to support foreigners is appropriate. (Example: Including life orientation etc.)
Make sure that the employment contract signed with a foreigner is fulfilled. (Example: Proper payment of wage)
To make various notifications to the Immigration and Arrival Administration Office.
Properly provide assistance to foreigners. → It is possible to outsource the support to a Registered Support Organization.

Support services for accepting Specified Skilled foreigners

Support plan for Specified Skilled Worker (i)
Employment contract content confirmation before entry, etc.
Support for entry and exit such as airplanes
Apartment contract, Japanese bank account, mobile phone etc.
Support after entering Japan such as taking a consultation or supporting daily life
Support for Japanese language learning
Periodical interview and emergency support
Support for exchanges with Japanese peopleAnd so on

#02 Technical Intern Trainee Summary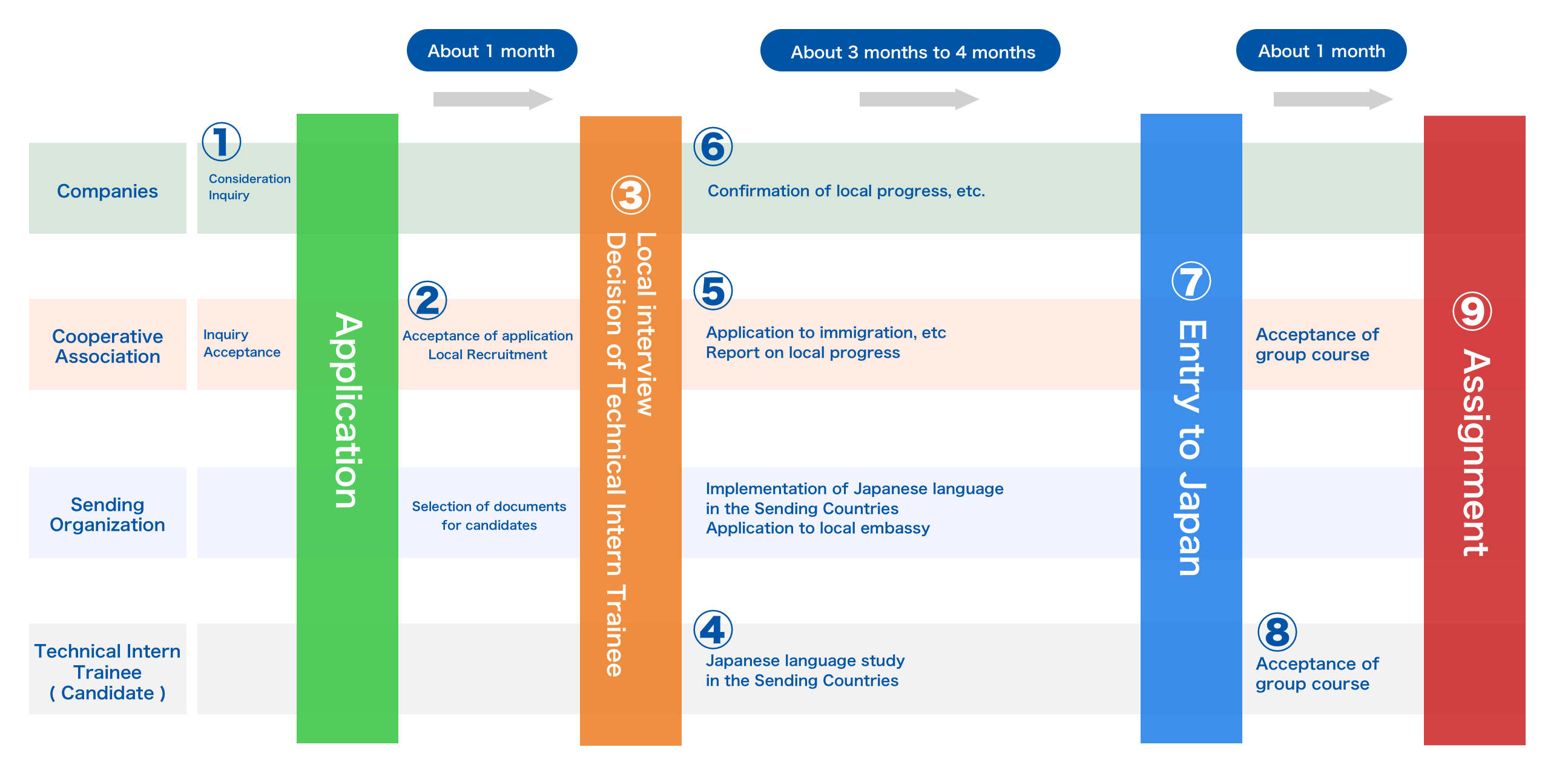 At first please contact from "inquiry form". We will contact you within 1 business day and adjust our visit schedule.

We will conduct an hour-long hearing at our visit. In addition to asking for recruitment requirements, we will also make suggestions for successful recruitment.

03

Iintroduction of Human resources and interview

We will select and introduce people who meet the hiring requirements. In addition to sharing job seekers' preferences and selection status, we canl also work on schedule adjustments.

04

Post-entry training and support

We will support appropriate training and support services for foreign workers after entry.
What documents do we need for Specified Skilled Workers?
When applying for the issuance of a Certificate of Eligibility, a large number of documents will be submitted.
How to check if the work content is subject to a Specified Skilled Workers?
First, identify the field in the Japanese Industry Classification. And please confirm whether it is the object work of theTechnical Intern Trainee system. The person in charge of our company will explain carefully about the details.
Accepting foreign human resources… How much does it cost? How long does it take?
There is no limit on the number of people for each accepting organization (company), but there is an indication of the acceptable number of people in each field of work.
We would like to change the status of residence of a part-time foreign student in our company to Specified Skilled Worker. Is that possible?
Basically, it is for graduates.
Can I request an interpreter at the time of assignment?
That is possible. Interpreting in a wide range of fields and languages is possible.
I would like to request foreigners' daily life support.
We will carry out apartment contracts and equipment preparation. First of all, please ask us what kind of support you need.
Can you educate foreigners about the rules of life in Japan before assignment?
"We own training facilities in Okayama Prefecture. In addition, it is possible to do the training in your company facilities. CAST FLOW will educate and support foreigners kindly, carefully, and properly including the waste disposal rules, bicycle classes, and the necessary knowledge for living in Japan, such as classes on police.
(Various plans are available upon request)"