The reason why CAST FLOW exists
MISSION
We look forward to
embracing diversity in Japan.
CAST FLOW increases international mobility of human resources and motivation of the society as a whole, and sows the seeds of innovation in companies. We CAST FLOW keeps moving forward for the future of Japan and the world.
What CAST FLOW want to realize
VISION
VISION 1

Through an introduction of international human resources, we will realize a society where people can understand each other across cultural boundaries.

"Cotribution for Borderless Human Resources" is one of our visions. CAST FLOW aims to realize a society where people can work without boundaries of nations and cultures.

VISION 2

We will bridge 10,000 of global human resources by 2020.

We believe that collection of races and cultures
The things CAST FLOW values
POLICY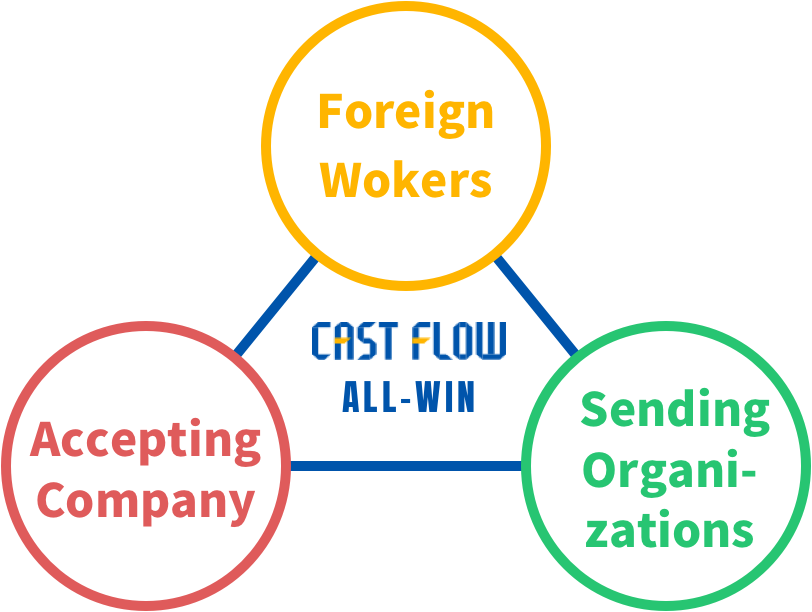 We will realize ALL-WIN of "International Human Resources ( Foreign Workers )", "Accepting Company ( Implementing Organization )", and "Sending Organization"
To be a linking bridge of man and man, man and company, and Japan and world, we offers all solutions in employments of foreigners and values to help improve society.
FULL SUPPORT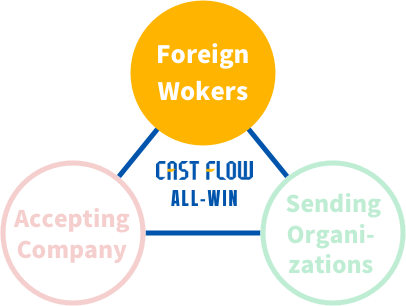 We will offer all-around supports for international human resources to do work and technical intern training energetically.
You will always feel anxious when you work for the first time. Workers have to face many kind of "anxieties". Not only problems in work, but also there are worries in their everyday life, too. Please be assured that CAST FLOW will do our best to support making the environment for workers to work lively.
PROFESSIONAL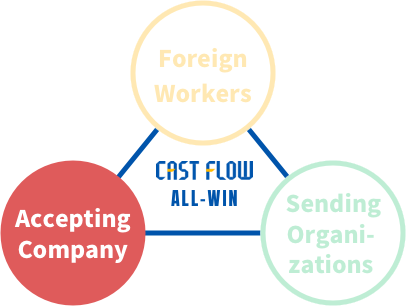 We will offer accepting companies the full support to employ foreign workers.
There are various conditions for hiring foreigners. Not only temporary workers, but also newly implemented "Specific Skilled Worker" from April 2019, it requires expert knowledges to manage for the accepting companies. CAST FLOW will do the total support for the employment of the foreign workers so that accepting companies can concentrate on thier business.
GOOD RELATIONSHIP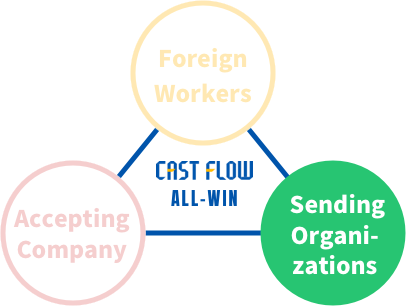 We value to keep the good relationship with Sending Organization.
We closely cooperate with "Sending Organization" which develops and produces excellent human resources. We regulary conduct on-site inspections, think the way how to make the exellent human resources to be accepted in the company and carry it out by cooperating with "Sending Organization". Moreover, we work to eliminate relationships with malicious Sending Organization such as illegal brokers. Making the safest environment for accepting companies and foreign workers is CAST FLOW's advantage.